PCA's 50th Anniversary Timeline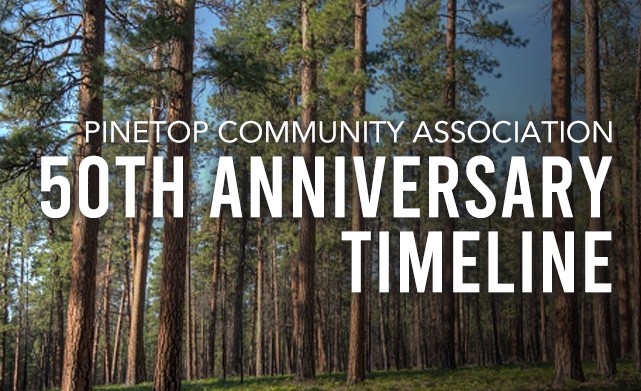 We are proud to be sharing PCA's 50th Anniversary with you in "2021"! The lots in our area started selling in 1967 and it was unincorporated until 1974, and at that time there were 604 platted parcels. Thank you to all of our year- round residents who keep the pulse going and everything safe in our little neck of the woods. It is truly appreciated by all of us who increase the population substantially during peak summer months and shake up our peaceful corner of the world.
---
Subdivision Name: Plat Map Recorded Date
PCC Mobile Homes Unit 1 – June 12, 1968
PCC Mobile Homes Unit 2 – May 8, 1969
PL Mtn. Homes Unit 1 (PCA Unit 22) – May 8, 1969
PCC Unit 3 – June 20, 1967
PCC Unit 4 – September 24, 1968
PCC Unit 5 – May 12, 1970
1971 – PCA Unincorporated with Pinetop Lakes (PL) & Pinetop Country Club (PCC) Inc. (3 directors)
Presidents: Thank you for your service in our first decade, as well as all other board members.
1972-1973 Dave Bergsma (Developer)
1974-1977 O.M. Phillips
1973-1974 Jay Kee Jacobsen (Original Developer)
1977-1980 Richard E. Schaffer
1974 – PCA Incorporated (11-Directors), becoming independent of PL Inc. & PCC Inc. Initial Dues: $20
1976 – The White Mountain Scenic Railroad operated from 1960 – 1976 by the Apache Nation between McNary and Show Low. Steam Locomotive #36 carried over 200K passengers departing and returning to what is now the pool building at the PVC Roundhouse Resort, 5829 Buck Springs Road.
---
1980 – PINETOP-LAKESIDE POPULATION: 2,315
Presidents: Thank you for your service in our second decade, as well as other board directors.
1980-1982 R. H. Hammer
1983-1987 Peter Benedict
1981-1983 Keith Bentley
1987-1990 Bob Scheuneman
1980 President Hammer's letter explains how 16 PCCMH Unit-1 parcels were moved to PL Mountain Homes Unit-1 (PCA Unit-22) in 1974.
1983 Cattle Guard purchased by PCA to support Emergency Evacuation Route
1984 Pinetop-Lakeside incorporated as one town. Lakeside was founded in the 1880's by Mormon pioneers and name derived from the area lakes. Pinetop derived its name from the "tall" saloon keeper Walt Rigney known as "Pinetop" who served the Fort Apache Soldiers. Elevation: 6,804 feet
1984 Ponderosa Domestic Water Improvement District (PID) established. All PCA Members are part-owners.
1986 Special Use Permit for Emergency Evacuation Route approved by ASNF for PCA & participating PCC
1987 Petition for annexation for sewer service began with a request from the PCA board. It took 14 months for a majority of property owners to sign petitions, approving the issuance of a construction bond. The average assessment per parcel was $6,300.00.
1988 A Record 10.17 inches of rain fell during the August monsoon.
1988 Unit and Lot Numbers were the ONLY way emergency services could respond. Navajo County Board of Supervisors approved ordinance #01-88, Nov 14, 1988 assigning 4-digit address house numbers.
1989 Board hires Unit-1 member Theresa Bibeau as Asst. Secretary/Clerk, she served for 20 years.
1989 Sewer contract thru P/L Sanitary District awarded to Lloyd Brothers, failed to complete the project.
1990 In January the Sewer District working with the bonding company, awarded Pearce Construction a contract to finish the work. Service to 82 lots (out of 138) in Unit-4 and all 89 lots in Unit-5 were completed August 1990. Homeowners were never charged for the $585,000 cost overage, due to the construction performance bonds in place.
1990 Pinetop Fire District and the US Forest Service established rules for protecting properties against forest fires. Fire Safety Items were created, in response to the "Dude Creek Fire" North of Payson in the Tonto National Forest. A Perryville Officer Firefighter and 5 Prisoner/Firefighters lost their lives battling this fire.
---
1990 PINETOP-LAKESIDE POPULATION: 2,422
PRESIDENTS: Thank you for your service in our 20th-25th years, as well as all the other board members.
1990-1991 JoAnn Ragsdale
1992-1994 Bob Coombs
1991-1992 Frank Slyter
1994-1996 Phil James
1990 911 Emergency Phone System established in Navajo County.
1991 PCA adopts Pinetop Fire/Forest Service "Best Practice Rules" (currently Firewise criteria).
1991 Navajo County installed green street signs and provided "Reflective 4-digit house numbers" for Emergency Responders. Instructions were given to homeowners to place them in clear view next to the driveway. PCA "Unit Blockheads" (currently known as "Unit Directors") delivered the numbers for installation.
1992 Dottie Kaiser was elected director and proceeded to become our longest serving board member.
1996 – PCA 25th Anniversary!! The Article of Incorporation, Bylaws and Rules were amended.
---
President: Rich Munroe, 1996 to 2001
1997 PCA requested a change of flight path for maneuvers causing excessive noise directly over PCC area. Test flights originated in Yuma, flying between – Twin Falls, ID & Fort Huachuca, AZ.
1998 Home address & lot numbers "REQUIRED" to be visible from the street for "9Il" Emergency Responders.
1998 The "Spruce Aphid" reported in 1988 on the Apache Reservation; just confirmed active in Pinetop, June 1997.
1998 Walmart "Super Center" opened in Show Low.
1999 Stoplight was installed @ Buck Springs Rd & Hwy 260. <> Complaints listed clearly & addressed timely.
1999 Proposal to re-write Rules & Policies and agreed to begin working on them in the fall.
1999 April total snowfall of 30″. <> Buck Springs Rd was paved. <> Fire escape route completed off East Lane and Country Club Rd. It turns into Forest Road-9500, once you drive over the cattle guard into Apache County.
1999 The first posting of Annual Meeting Information Signs were displayed throughout the PCA. A record 110 member's attended, plus 120 proxies. <> PCA gas line installation has been completed.
2000 PINETOP–LAKESIDE POPULATION: 3,582
2000 Starwood Development broke ground.
2000 Bob Scheuneman involved with discussion (from 1997) encouraging neighboring HOA's to join over 3,500 homeowners together & work with local politicians and city officials, so that our voices be heard on issues that would affect our forest communities. We support local services/schools with our tax dollars.
2000 BEARS! Don't put trash out early & regularly wash the container, inside & out, with bleach or ammonia.
2000 DOGS–Loose dogs & excessive barking. <> ATV & OHV–Ongoing concerns regarding underage drivers and not wearing a helmet. The Law & Rules can be found www.azgfd.com/ohv/fags
---
President: Ed Langevin, 2001 to 2004
2001 Dottie Kaiser suggested a newsletter concept with a name of "NEEDLES, ROCKS AND CINDERS"! First Fall Newsletter headline was "1971-2001 – 30 Years of Excellence".
2001 PTFD Station 12 opens @ 5976 Buck Springs Rd. <> Widening of SR260 completed, including the grassy median.
2002 The paving of Tall Pine & Buck Springs Roads were completed in May.
2002 HonDah Casino hosted a fire information meeting for the community in June.
2002 Any (political or RE) signs cannot be posted in the right-of-way & signs must be 3'x3′ or less. Election signs restricted to posting 30 days prior to an election, and must be removed immediately afterwards.
2002 The idea of a management company was introduced. <> Transfer Fee increased from $100 to $200 per sale.
2002 JUNE – The "Rodeo Chediski Fire" – Arizona's LARGEST FIRE to date started June 18, 2002 thru July 9th. The wildfire consumed 468,638 acres. "ALL" area homeowners in PCC were EVACUATED. The fire came within 10 miles and the smoke remained for weeks after. The fire danger was the HIGHEST it had been in "75" years.
2003 A new letterhead was designed by John Smith (Unit 2 director). <> Board members agreed that any proposed property manager would be salaried.
2003 Continuing issues: building permits for fences and sheds – some members not in compliance. <> CHILDREN driving ATV's with no helmet nor legal driving permit!
2003 in July, the first holiday patrol conducted by off-duty Sheriff Deputies & Board approved $500 donation.
2003 Vinyl coated chain link fence colors of green, brown and black were approved for Units 3, 4 & 5.
---
President: Cynthia Jellison, 2004 to 2008
2004 First thinning of the East Lane (FR-9500) fire escape route completed. <> Board member Rich Munroe served on the local "2020 Vision Planning Committee" to determine where Pinetop should be in 15 years (2020).
2005 Concerns over rentals discussed in November. Minutes stated: "…always been allowed, but when does it become a business?
2006 Spring newsletter refers to annual lot cleanings as "RAKE AND REMOVE!" <> Tom Cagle initiated the new website: www.pinetopcommunityassociation.com, by purchasing domain. (It is no longer active.)
2007 Current funding is adequate for only THREE Navajo County Sheriff Deputies to cover area from Holbrook to Heber to Pinetop. Registered members were encouraged to vote "YES" on "Prop 400" to increase staffing,
2007 PCA hired local attorney Tim Shaffery to discuss future changes to our CC&R's. Goal is to be ready with changes, 30 days prior to the CCR's signed year (every 10 years). Need written statement with copy of the Governing Documents for owner selectively to include HOA related responsibilities in long-term lease contracts.
---
President: Bob Scheuneman, 2008 to 2011
2008 RV/Trailer Parking Units-3,4 & 5 Guideline adopted in 1999-NO long-term parking/storage of campers, RV's fifth wheels, etc. on PCA Properties.
2008 Paving in Unit-1 was initiated in August 2004 and it required 51% of homeowners to approve. Surface Contract Inc. completed the paving in August 2008. Homeowners in Unit-1 had an option of paying $500per year over 10 years @ 8%, or pay in full upfront.
2008 Management Company would be required to drive the 17 miles of PCA streets and document violations in HOA, taking 2-3 hours twice a month. <> Off-Duty Sheriff Report for Labor Day Activities.
2008 in Unit 22, legal expenses are an ongoing concern. The BoD approved increase of transfer fees from $200 to $400 effective immediately.
2009 PTFD opens Station-11 @ 1845 S. Pine Lake Rd-August. <> Fire Exit-Experiencing Dumping & Excessive Litter.
2010 PINETOP-LAKESIDE POPULATION: 4,282
2010 Winter 2009-2010 PCA Snowfall exceeds 100 inches, <> January 2010 storm collapses roof @ PTFD Station-12, also several porch covers & trailer roofs collapse. <> State of Emergency Declared in Northern AZ for snow & floods.
2010 PCC Units 1 & 2 agree to share Sheriff Holiday Patrol costs. <> Excel Membership file project is approved.
2010 New Navajo County Dog Ordinance: https://www.navajocountyaz.gov/Portals/o/Departments/Board%20of%20Supervisors/Documents/Ordinances/2006/Or dinance%2002-06%20Animal%20Control.pdf (It is still current in 2021)
2011 May 29, 2011 – Red Flag Conditions. Mid-afternoon spotter reports smoke in the forest 1.5 miles north of the PCC-Clubhouse. Ground crew, dozer and helicopter dispatched, dozer entered forest @ 6400 block of Wildcat Way. It was a man caused fire that burned "8" acres and was named the "Club Fire".
2011 Later on May 29, 2011 fire was reported near Alpine; the "WALLOW FIRE" was BURNING & BIG!! On July 8, 2011 it was finally contained after burning 538,049 acres of Arizona land and 15,407 acres of New Mexico land. The Wallow Fire is now Arizona's "LARGEST FIRE" TO DATE.
2011 Unit-22 has 16 Lots the property title stated for owners that they were in Pinetop Lakes Mountain Home Unit-1, but paying dues to PCA. Finally a document from July 12, 1974 was discovered that had never been properly recorded; it helped create a Joint Resolution that was signed by both BoD's and finally recorded in Navajo County in 2010. A large part of the increased legal fees during this time frame were initiated due to this matter and covered by increasing the transfer fees. Also, a five year legal challenge with a homeowner over long-term storing of RV trailer in Unit-5.
2011 The Board funded an online, annual subscription fee HOA website application which replaced the dot com domain with shortened name: www.pca-az.org.
2011 The BoD approved website was maintained by volunteer Board member Bob Stratman, who imported the Excel member data. It is user friendly for the BOD & all of our members. Bob gave presentation to the membership at the 2011 PCA Annual Meeting.
---
President: Bob Stratman, 2011 to 2012
2011 New Attorney Wendy Ehrlich provides answers on implementation & enforcement of Rules & Policies.
2012 April-Legal Counsel nixes plan to change CC&R's in favor of using Bylaws to address enforcement issues.
2012 July-Fire Danger "EXTREME". PTFD is educating the community on RSG (Ready, Set, Go) program to prepare for a wildfire driven evacuation. <> PTFD has major issue with residents not clearly posting house address.
2012 July-PCA Membership database able to populate website with member profile. <> Governing docs & permit application forms available for download. <> Clerk Betty Tuccio contract is updated to include website duties.
---
President: Dick Doane, 2012-2014
2012 October-Reconciliation of PCA Owner data & County Assessor tax records keeps ownership current. <> PTFD completes RED (Fail) GREEN (Ok) Firewise Evaluation of PCA; Results 13/554 addresses not visible.
2013 June–Amendment of Restated Bylaws Approved <> July-PCA Directors commit the Association become a Firewise USA Community. Bob Stratman, Vicky Smothermon & Edd Brady dedicated Board Members volunteered for this assignment.
2013 September-President meets with Units-1 & 2 over separating from PCA, decision was to stay. <> BOD Mtgs now at PTF-Station #12, purchased PowerPoint-Projector to improve Board & Annual Meeting presentations.
2014 March-AZ Dept. of Forestry & Fire Mgmt. team completes on the ground PCA Firewise Assessment. <> April PCA Bylaws revision approved. <> June-Firewise PCA Volunteers passed out Firewise info to WM Residence at (2) local events.
---
President: Jane Craig, 2014 to 2016
2014 August-Firewise Committee Review & Application Team, Bob Stratman, Vicky Smothermon & Edd Brady are completing required paperwork for PCA to achieve "Firewise Certification". Fran Mayer will replace Vicky, once process is completed. <> 15 Volunteers needed to attend Firewise Assessor Trng. <> Betty Tuccio, Clerk gave "2" week notice.
2014 September-Presentation by HOAMCO (Mgmt. Company) <> Tree Grant Program moved to Firewise Committee.
2014 October-Special Meeting-PCA Board approves HOAMCO Vote – 5 to 2. <> Dick volunteered to perform the clerk duties. <> Complete Transparency of Minutes will now be posted under "Members Only" section of the website.
2015 January-PCA-Firewise Certification on December 3, 2014. Carrie Dennett, AZ Forestry gave presentation to PCA on January 12, 2015. <> AZ State Forestry Reps.-D. Craig & D. Thrasher attended mtg. & introduced Special Crews Program used for thinning, giving low level convicted felons improvement opportunities; some moved on to work "Hot Shot" Crews. Congratulated PCA on becoming Firewise Certified. <> Tree Grant initiated by Board Member Dick Doane, funds have been set aside. <> HOAMCO assigned Joe Long, Community Assoc. Mgr. (CAM)
2015 April-Safety Vests received & issued for PCA BOD, Unit Directors & Joe Long to be clearly identified as authorized PCA Representatives performing duties. <> PTFD Chief Jim Morgan congratulated PCA on our FW-Certification, also thanked past President, Bob Scheuneman for assisting him with accelerating his Firewise education. <> Tree Grant "cancelled" due to AZ State Law regarding reimbursements to homeowners.
2015 May-Firewise Bulletin Board posted at Fire Station #12. > Established (5) pca-az.org email accounts.
2015 June-First Co-Sponsored Firewise Event with PTFD scheduled for June 20th; door hangars delivered, banners ordered, door prizes, face painters, dogs/burgers, chips & cookies served . Volunteers made it a great success!
2015 July-BOD Members wore their PCA Vests at Firewise Event. Bob Scheuneman, past President sent PCA a Smokey Bear Sign & Thank You Note for our efforts. Chief Morgan & President Craig sent thank you letters to volunteers & businesses who donated. <> Dottie Kaiser retiring after "23+ years of BoD service in August. <> HOAMCO replaced TOPS with Caliber in August. <> Minutes placed on website for transparency.
2015 August-Key Note Speaker-Chief Morgan, topic Fire Adapted Community Vision. <> First YPFW-Your Place is Firewise Awards selected/presented by UD's to homeowners who took steps to maintain Firewise efforts.
2015 September-Review UD Responsibilities & update. <> Firewise Annual Renewal Completed 9-17-15. Subscribed to Dropbox, and online dues payment can be made through the website with PayPal.
2016 April-Mikogo was used to conduct the January meeting for the first time. <> Discussion regarding Pondersa Domestic-WID Fire Hydrant request test records. <> Wildland Urban Interface 2-day Summit attended by Jane Craig. <> Second Annual Firewise Event scheduled for July 30, 2016.
2016 August-Firewise extremely successful, volunteers ages from 6 to 91. We have an opportunity to leave a legacy for future generations & now other HOA's are interested in program. Chief Morgan reported there are "65' Firewise Communities currently in AZ-There is only "1" in the White Mtns. It's Pinetop Community Association!! <> Dick Doane presented donation to PTFD of $20,000 for Fuel Reduction Grant Program.
---
President: Bob Stratman, 2016 to 2017
2016 Larry Fulghum briefly served as President, then resigned December. In January 2017 Bob Stratman stepped into President's position. <> Bob & Diana Tunis volunteered for IT assistance, web, caliber & firewise.
2017 January-House numbers required as stipulated in FIRE CODE-2015, Art 505.1– 4″ high, a" stroke, contrast with background.
2017 May-Homeowners should include "Firewise Community" when selling properties, <> Dick Doane, Past
President, longtime BoD member and community activist passed, $500 Donation made to PTFD in his memory.
2017 June-Lonna Bradley briefly served as PCA President and signed contract with Frank Smith & Jim Rathbun assigned Community Manager, <> July-White Mtn. Summer Homes, Woodland Hills & Top of the Woods are certified Firewise, following in our footsteps. Firewise Event planning in full swing.
2017 August-Chief Morgan submitted 2018 Fuel Reduction 90/10 Grants.
---
President: Gloria Mundy, 2017 to current
2017 September-Gloria & Bob interviewed by the White Mtn. Independent newspaper, regarding Firewise Event. <> Total Volunteer hours-361 toward recertification. Event very successful even with rain-out at 12:30.
2018 February-Firewise Event scheduled for July 21, 2018 @ Blue Ridge H.S. <> July-Location changed to Pinetop Fire Station #12, email blast sent notifying members, new signs made & local radio contacted.
2018 August- Chief Morgan reported "35" PCA Properties have completed Fuel Reduction Grant evaluations at Annual Mtg. Catrina Jenkins presented Ready, Set, Go Program and discussed evacuation routes.
2018 December-Newsletter stated $40 Annual Dues must be paid before April 1, or a $40 Late Fee added. If not received on time collection fee would be $120.
2019 BOD rolls out new website, same address. <> First Saturday in May is the Annual Community Wildfire Preparedness Day. White Mtn. Communities can volunteer & put hours toward annual Firewise certification.
2019 July-PCA Donated $2,000 toward purchasing gift certificates for Firewise Event, also supporting local business.
2019 August-2019 Firewise Event had a total of 432 Volunteer Hours, continuing to educate our neighbors in the White Mountains. Blue Ridge Elementary School is a great location for the event.
2019 September-PCA cannot include clean-up of vacant lots in the Firewise Certification Submission. <> Discussed sewer options for Units-1, 2 & 22. <> 2020-Annual Mtg will be at Hon-Dah on August 1, 2020.
2020 April-COVID- The BoD will conduct Annual Meeting via conference call & elections by return of ballots via USPS.
2020 May-COVID forces cancellation of 2020-Firewise Block Party.
2020 July-Member complaint regarding short term rentals will be addressed from "NUISANCE" standpoint, legal counsel suggested Rules & Policy Documents be updated. August-Committee formed to document PCA 50th Year Anniversary timeline. <> Firewise USA information added to the website. <> Request made to consider posting Annual Mtg. Minutes (in draft form) to the website. Annual meeting was conducted entirely via teleconference, due to Covid. Received 128 proxies prior to Annual Meeting.
2020 PINETOP-LAKESIDE POPULATION: 4,557
2021 January-Frank Smith & Associates suggested implementation of TOPS and encouraged BoD to switch from Caliber to TOPS Program, since all of their other HOA's already use TOPS.
2021 April-Firewise Event-Blue Ridge Elementary, Saturday, July 24, 2021-10-2, 3050 N. Porter Mtn. Rd. <> Legal Counsel suggested Rules & Policies be reviewed before adoption.
2021 May-2021–Annual Meeting will be held at Hon-Dah, Saturday, August 7th. <> Welcome Committee teams established. <> First PCA Board Meeting held in person since COVID. <> TOPS will replace Caliber Software. <> FSM Team, Mark & Chad will inspect all units for lot cleaning violations during first week of June.