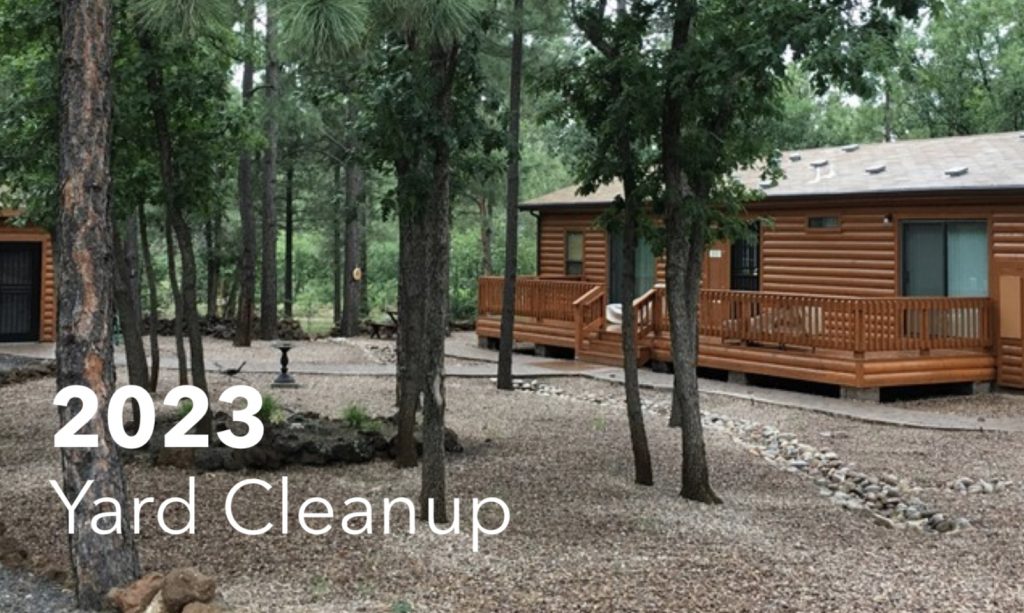 Annual Yard Cleanup Notice
Complete your yard cleanup before June 1, 2023.

Cleanup includes such tasks as roof gutter cleaning, removal of fallen tree branches, leaves, needles, and debris to name a few. Your cooperation is greatly appreciated and you can feel good about having done your part to remove potential wildfire fuel from our community.

Below is a list of local independent contractors listed for your convenience. This does not constitute an endorsement by members of the Board of Directors. Please use your discretion.
Juan Telles 928.242.3141
Rene Pineneade 928.388.3882
Jesus 928.250.2957
Steve 623.694.1073
Parker Pearson 928.369.6754
Mike Gasper 928.205.0415
Louie's 928.386.6024
Kenny 928.358.9332
Rogelio Zubia (text) 928.358.7001
Chuck Perkins 928.242.1788
Victor Espinosa 928.207.5465
Jason Hill 928.266.5618
Lloyd Perkins 928.919.6547
Paul Soto 928.386.6024
Barna Services 928.207.7170
Tim's Landscape 928.537.9065
Mike White 928.255.7602